Today: Rhubarb crumble cake (vegan friendly)
I'll be honest with you. Even as a child, my mother's rhubarb compote taught me that I don't like rhubarb. That's why I approached this cake only carefully. Fortunately, the rhubarb looked so tempting in this form that I couldn't resist. My conclusion: really tasty. Also for rhubarb muffle like me.
So here is the recipe: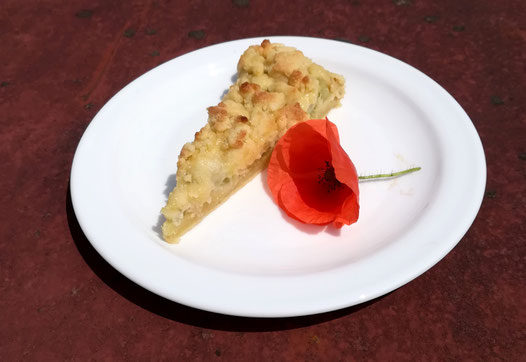 Ingredients
Base:
250 g flour
125 g margarine
25 g sugar
1 pinch salt
1 egg replacement (or one egg)
5 tbsp water
Besides:
300g Rhubarb
Crumble:
100 g margarine
120 g sugar
 200 g flour
Preparation
Preheat the oven to 200 degrees
Mix the margarine, sugar, salt, water and egg (substitute) to a smooth mixture
Add flour and mix until there are no lumps left
Pour the dough into the springform pan (26 cm) and smooth down
Clean and peel the rhubarb and cut into pieces of about 3 cm
Spread the pieces on the dough 
For the crumbles, knead the (preferably cold) margarine with the sugar and flour until a good crumble consistency is obtained
Spread the crumble on the rhubarb and bake at 200 degrees for about 30-40 minutes
Finished :) 
A big thank you and praise to Daniela for the baking and the recipe!