Today: creamcheese cake with mandarins
We warned you, here's our next treat.
Sometimes not everything works as it should. So this tasty cake has due to the first lack of cooling "unfortunately" two attempts needed to become firm. But we were not less happy about the somewhat muddy attempt. At least that means two cakes for us. Here is the recipe of the successful version: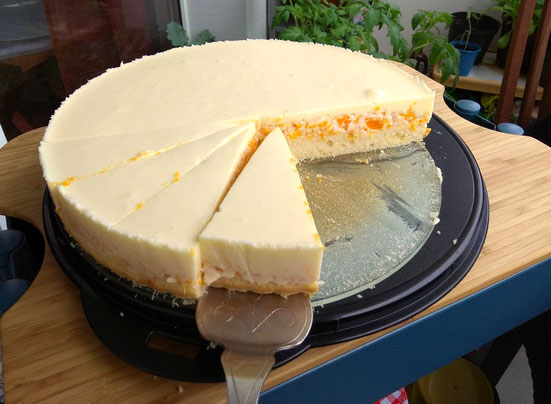 Ingredients
Base
2 eggs
4 tbsp sugar
6 tbsp oil
1 gr. cup flour
½ Package baking powder
Topping
200g cream cheese
¾ cup sugar
¾ cup juice
1 packet of lemon ginger dish
Fruits of your choice
1 cup of cream
Preparation
Base
Preheat the oven to 175°C for the base.
Beat the eggs with the sugar until foamy
Then stir in the milk and the oil.
Mix the flour with the baking powder and sieve into the egg-sugar mixture.
Put the mixture into a greased dish and bake at 175°C for about 10 minutes.
Topping
Mix the cream cheese with the sugar

Mix the Jell-O with the juice in a saucepan and heat (do not boil).

Add the jelly and fruit of your choice to the cheese mixture.

whip cream until stiff and fold in carefully

Then spread the mixture on the cake base, which has already cooled down a little, and leave to cool, preferably overnight.
Yum!
A big thank you and praise to Saskia for the baking and the recipe!