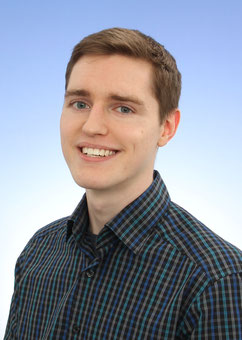 Bastian Hellweg (25) wrote his master thesis at Ilmsens at the beginning of the year and got to know us very well. In this interview, he looks back on this time and shares his experiences with us.
Tell us, how did you find Ilmsens?
I studied engineering informatics with a bachelor's degree, specializing in telecommunications technology. In my master's degree, I specialized in electrical engineering and high frequency technology, where I attended many lectures with Dr. Sachs. Since I was interested in the lectures, I finally decided to work in the field of Dr. Sachs as research assistant. There I started the project that I continued at Ilmsens to work directly with the sensor experts.
How did Ilmsens support you with your project?
I was provided with a workplace in a student laboratory with a practical setup where I could take measurements. For the ideas I had I was given time and the necessary space it is important to mention that I have not only worked through requirements. I had a lot of room for innovation but was not left alone either. I always had contact persons who tried to understand my solution and helped me. No matter if, it was about technical topics, questions about hardware, software or the evaluation of my data.
Did you have enough equipment available for your project?
In order to support me with my ideas, everything that was not available was purchased. Without having to fill out complicated and eternally long project applications.
What did an ordinary day look like in the student lab?
The usual day in the student lab was that I came to work and then first turned off the measurement that was running overnight. Then I prepared the next measurement and started for the next day. During this time, I analysed and evaluated the measurement results in MATLAB. If I encountered any problem with the evaluation, I ran to Thomas. He told me what to consider making it work. Sometimes the distance sensor failed. Then I went to Kai and we solved the problem together. Relatively often, the Raspberry Pi, which took the measurement, is also lubricated. Ralf was able to help me. Then I spent the whole day with data analysis and modelling or discussed the relevant physical effects with Dr. Sachs. During the lunch break, I was in the refectory, which is not far away. In the evening, I often needed some hardware. Then Kai and I soldered together whatever was needed. In between, I had a short e-mail traffic to report to the project partner.
What were the general working hours like? Were you here every day or were you able to manage it freely?
Well, I do not know if you want to write that down (laughs).
Yes, I was there every day of the week. Quite often, I was in the office from 8:00 to 19:00, sometimes longer. Just as I needed it and wanted it. Saturday and Sunday, I was there more often because I wanted to do my measurements again. Since I had the key, I could always get to my measurement setup and I was completely flexible in my time.
How did you feel about the working atmosphere at Ilmsens?
Very good, because most of the team is very young and open-minded. I could come to anyone at any time and I never felt like I was getting rid of. That was simply a great working atmosphere and question culture. They also got along very well personally.
Whom would you recommend to come here, or rather for which target group is the student laboratory at Ilmsens suitable?
It is more versatile than you may think. Ilmsens has a broad base.  Not only electrical engineers but also mathematicians who want to work in data analysis are in good hands. In addition, computer scientists who do not only make pure software, but also embedded hardware developers can experience with Ralf how to connect software with hardware. Certainly also electrical engineers who go purely on circuit technology and wish only to make hardware and solder around. For them this is very interesting because they get the opportunity not only to learn the theory at university but also to assemble, solder, design, construct and build whole boards or devices. Last but not least there are of course all those who are interested in RF sensors, radar technology and impedance spectroscopy like me.
What did you like best at Ilmsens?
The people. Above all, that I had a contact person for every problem and that I got along very well with my colleagues on a personal level.
What did you like least of all? Be completely honest!
I have to think about that (silence). That is difficult. What probably bothered me the most was that the project didn't get ready for the market as quickly as I wanted because software and hardware changes were also necessary. I was already gone when it was finished. However, that is just a trifle. In the meantime, I have noticed that things are not different in large companies. My picture used to be like this, but now I know that small things can take up to three weeks. Therefore, Ilmsens' short decision-making paths are very positive.
Your conclusion about your time with us and about Ilmsens as a whole?
Small but nice. What I took along as a particularly positive aspect were the very simple structures, which also made a quick implementation of innovative ideas possible.
Thank you very much for taking the time for this little interview.
I always enjoyed the time at Ilmsens very much and if I can give it back in this sense, I am very happy to do it.