Today: Pumpkin Bars
Even if it is already December, this rainy day today feels incredibly autumnal. The cool wind rushes through the treetops and the air is wonderfully clear.
As if Saskia had guessed it, she walked through the front door today with a pumpkin pie. Who needs a Pumpkin Spice Latte if you can have this?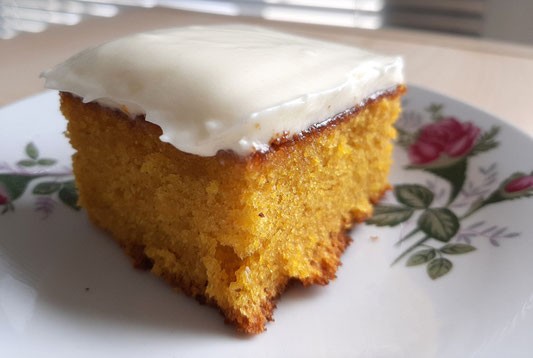 Ingredients:
4 eggs
320 g sugar
190 g oil
400g pumpkin (either fresh, thawed or out of the glass)
270g flour
3 tbsp baking powder
2 tbsp cinnamon
1 tbsp salt
Glaze:
200 g cream cheese
110 g butter, soft
1 sachet vanilla sugar
220 g icing sugar
Preparation
Preheat the oven to 200°C. 

Dice about half a Hokkaido pumpkin. Either cook in the oven first and then puree or use a high-performance mixer to crush the raw pumpkin.

Whisk with the eggs, sugar and oil.

Mix the dry ingredients together and stir slowly into the pumpkin mixture.

Grease a baking dish and add the mixture. Choose the size of the dish so that the liquid dough is about 2 cm high.

Place in the oven and bake for about 30-40 minutes. If necessary, use a toothpick to check whether it is fully baked.

Mix the ingredients for the icing and spread on the cooled cake.
Yum!
A big thank you and praise to Saskia for baking and the recipe!