Today: Oat Cookies
Do you smell that? 
The smell of freshly baked biscuits is always something special. No scented candle can keep up with that. Even if the biscuits didn't just come out of the warm oven and exude their fragrance, they couldn't escape the attention in the office for long. Feel free to bake them: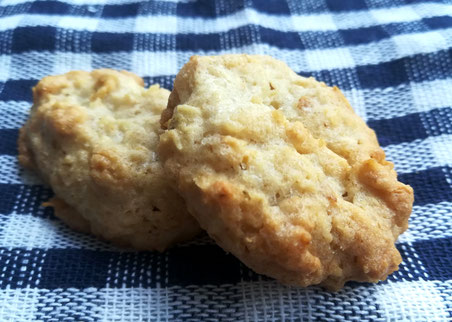 Ingredients: 
150 g soft butter
200 g brown sugar
100 g sugar
1 egg
2 tbsp water
1 sachet vanilla sugar
225 g oat flakes
150 g flour
1/2 tbsp baking powder
1 tbsp salt
Preparation
Preheat the oven to 180 °C.
Mix the vanilla, brown and white sugar with the soft butter, water and the egg.
Mix flour, baking powder, salt and oat flakes and stir into the creamy mixture.
Line two baking trays with baking paper and place a TL of dough piles 5 cm apart from each other on top.
Place the baking trays in the oven and bake at 160°C circulating air for 12-15 minutes until golden brown.
Then remove the tray from the oven and let it cool so that the cookies can be removed from the baking paper undamaged.
 A big thank you and praise to Saskia for baking and the recipe!