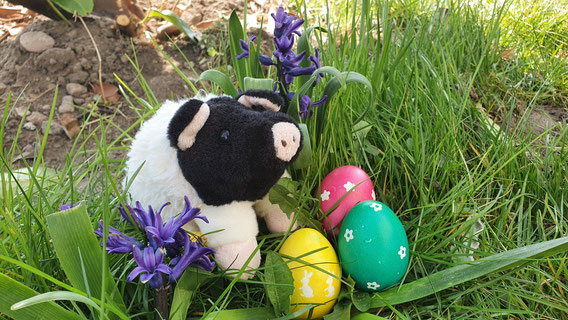 Before Easter, the egg-laying wool-milk sow of Ilmsens turns into a hardworking Easter bunny. Our stuffed animal lives in our office and sweetens our everyday lives. But in the very last days, we have seen her rarely due to her Easter preparations. 
WHERE THE EXPRESSION "EGG-LAYING WOOL-MILK SOW" COMES FROM
Usually the expression "egg-laying wool-milk sow" describes a thing, a person or a solution to a problem that has only advantages, satisfies all needs, and meets all requirements. The saying illustrates this ideal by means of an imaginary farm animal combining as a hybrid the advantages of different animal species, namely chicken (laying eggs), sheep (supplying wool), cow (supplying milk) and pig (meat). 
How the egg-laying wool-milk sow became Ilmsens mascot
Our managing director, Hans-Christian Fritsch, got the egg-laying wool-milk sow as a giveaway from the Thuringian Ministry of Agriculture. And as our technology was often compared to it, it was a very fitting coincidence. Ilmsens technology fulfils many needs in the branches of short range radar and impedance spectroscopy. Finding the best solution for our customers and thus developing the requested customer specific product motivates us. That's why we get up every morning. But at Easter, we make a tiny break. Happy Easter!