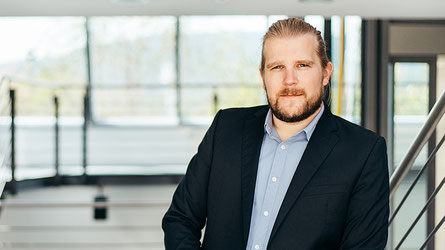 Hello Hans-Christian, great that you found time for this interview today. Please introduce yourself to our readers.
Hello, I'm glad it works out, too. I am Hans-Christian Fritsch, Managing Director and one of the five Ilmsens founders. I'm 39 years old, not married and I have two children. This also results in my hobbies: My family and Ilmsens.
What does your typical everyday life look like?
In the mornings I take my big boy to the daycare and then drive to the company. There, my typical day begins with checking e-mails and seeing what's currently going on. But of course I grab a coffee before I start (smiles). After processing my emails, I check my work packages and edit them. Around 5 p.m. I leave the office and take time for my kids. When they are asleep, I again answer e-mails or I do research on current topics, keep myself up-to-date and developing strategies for the small and big challenges.
This means your work does not end at 5 p.m.
Exactly. Office hours end at 5 p.m., followed by time with my family and later in the evening I work again.
That sounds like a long day. What's the best way to switch off?
I build wooden train tracks or Lego Duplo with my kids. The little ones really have fun with it and it is even great for adults (enthusiastic)!
What are your duties as the manager of Ilmsens and which of them do you like to do best or which ones do you like to push ahead of you?
My main tasks include project management, the strategic orientation of the company and at the same time looking after our investors. Since the first quarter of 2019, some of our sales staff have been relieving me. I am very grateful for this. Nevertheless, I have discussions about cooperation at a higher level myself.
I don't like to push something in front of me. Of course there are always tasks that you prefer more than others, but nevertheless I have learned and accepted that all tasks have to be done and that is perfectly fine.
What do you particularly appreciate about your position (as managing director)?
To be honest, I'm not trying to live it in a special position.
Founding is a dream for some, a nightmare for others. Was founding always your goal and what were the most important moments of success?
Founding has not always been my goal and for many founders it certainly hasn't been from the start. The whole thing developed organically and when I saw the opportunity and realised that I enjoyed working on building up a company, founding became something I wanted to do.
One of my most important tasks is to create a pleasant working atmosphere. Accordingly, it is a daily and continuous feeling of success to see that our employees enjoy coming to Ilmsens. That really makes me happy! Of course, concrete moments of success are the conclusion of contracts and successful investment rounds.
What is special about Ilmsens?
The answer to this question is multi-dimensional: On the one hand, Ilmsens technology (ultra-wideband sensor technology) is unique in the world. Thanks to this, we can implement innovative products. On the other hand, our five-member founding team is well mixed. This means that we combine all the skills we need. The founders include engineers as well as business economists. For example, I myself did not work on the technology but was allowed to concentrate fully on building up Ilmsens. That was pure luxury for me personally. Today, we have a powerful team of currently 18 people who are helping us to make good progress.
What is particularly important to you in the team or among colleagues?
It is important to me that our employees do not try to achieve a work-life balance because they regard work and life as separate. Rather, they should like to be there and we should meet at eye level. Mutual appreciation is particularly important when it comes to perspectives, opinions, skills and knowledge. It is just as important to have fun at work and be productive at the same time.
Owl or lark?
Owl!
In what three words would your best friend describe you?
I don't know. You'll have to ask him.
Tea or coffee?
Coffee.
Gummi bears or chocolate?
Gummy bears.
Beach holiday or city break?
I do not need a holiday 😉.
Hans-Christian, thank you very much for the interview!
Thank you very much for the questions.