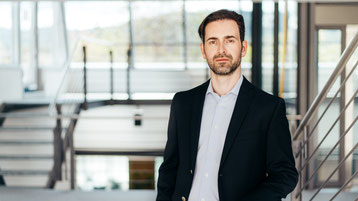 Hello Kai, nice you take the time for this interview today. 
Good morning! 
Please tell our readers a little bit about yourself.

Well, my name is Kai Schilling, I'm 39 years old and a Development Engineer at Ilmsens. Once I have finished my work I like spending a lot of time in nature. I love to hike through the forest, enjoy the peace and quiet and the fresh air, look for mushrooms or herbs, preparing them and then eat them. I am passionate about cooking and I like to try out many new things. Of course I also like to play squash, swim in summer and snowboard in winter. I am a great music lover, but I also like art in general. Due to my many hobbies, I am never bored. (smiles)
 
That's a huge variety of hobbies indeed. Talking about your job at Ilmsens. What are your main tasks and challenges as a Development Engineer? What do you enjoy most about your job?
I am mainly a circuit designer for analog, mixed-signal and high-frequency components. I take care of the design and manufacturing of devices as well as technical orders. What I like most about my work is the variety and the possibility to realize creative ideas.
For some people, founding a company is a dream, for others a nightmare. Has founding always been your goal?
The founding of Ilmsens was inevitably the result of the circumstances and the opportunities that arose and/or were created by the later founders themselves. The founding itself was never a goal for the sake of founding, but an almost inevitable process. 
Having found a company gives the opportunity to form the working atmosphere. What is special about Ilmsens?
Ilmsens has the usual advantages of smaller companies, such as flat hierarchies and a more familiar working atmosphere. In addition, there is a fairly broad range of tasks and every single employee has more personal responsibility and a greater say. Thanks to the good cooperation in the team, everyone can also benefit from the experience of the other employees and practical experience can be gained quickly, especially when starting out on your career.
What else is important to you in a team or among colleagues?
Transparency, good communication, mutual trust, and professionalism.
How does your perfect day look like?
A perfect working day? A freshly designed circuit board arrives in the morning and looks as expected, solder paste and the soldering station are on my side and the assembly of the prototype with components runs smoothly. 
At lunchtime, the canteen serves liver on apple and onion sauce with mashed potatoes. There is still time for a visit to the BC-Cafe to have an Earl Grey and to chat a little bit with some friends. 
After further assembly and some pre-tests, the now fully assembled board fulfils its design parameters as expected and flashes funny instead of smoking (which by the way never happens on imperfect days). It's great if it also fits into the matching milling housing.
Since it is no longer really worthwhile to start something new at 5 p.m., it's time for a squash game for the physical balance.
Owl or lark?
Owl.
In what three words would your best friend describe you?
Direct, accurate, reliable. 
What did you want to be when you grew up?
I wanted to be a cook, but I don't look like one. Therefore, it had to remain a hobby ;). 
Tea or coffee?
Earl Grey, hot!
Gummi bears or chocolate?
I definitely choose the air-dried ham!
That's delicious, too. Beach holiday or city break?
Neither. I like to backpack and sleep in a tent. Spontaneous trips by plane or car are also great. 
Kai, thank you very much for this interview.
You are very welcome.