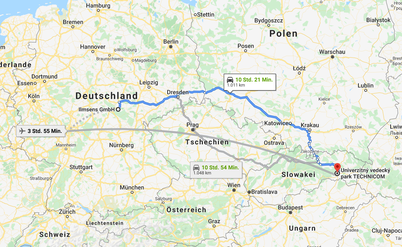 Since 11 December 2019, Ilmsens has not only been represented in beautiful Ilmenau in Germany, but also in Košice in Slovakia. In the branch office about 1000 km away from Ilmenau two colleagues are working on an algorithm for us.
Since we cooperate closely with the TU Košice, Ilmsens has settled in the university's Technikom. 
Have a little insight into the new location of Ilmsens:
Get to know Slovakia better with these 5 facts:
Did you know that...
the geographical centre of Europe is in Slovakia?

almost 40 % of Slovakia is covered by forests? This m

akes Slovakia to the country with the second largest forest area in Europe after Austria (46 %).

one of the most popular sports in

Slovakia is ice hockey?

Slovakia has the world's highest number of castles (180) and chateaux (425) per capita (5.45 million people live in Slovakia (status in 2018) --> one castle/chateaux per ~ 9.000 inhabitants).

more than 6.000 caves have already been discovered in Slovakia?