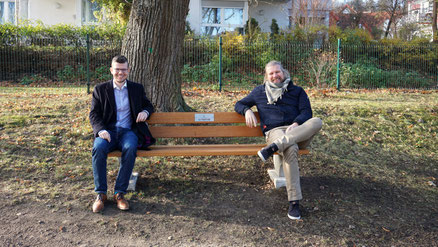 In bright sunshine and icy cold, the handover of a bench took place at the playground in Erfurter Straße in Ilmenau. 
As a family-friendly company, Ilmsens GmbH would like to make a small, sustainable contribution with its sponsored bench. "Children are our future. I myself will soon be a dad for the third time and I really appreciate the fact that Ilmenau has an excellent infrastructure, especially for children. This is exactly what makes our small town attractive for young families. If we as a start-up can make a small contribution to making things a little better for everyone, we are very happy. We have therefore decided to sponsor a bench for the playground on Erfurter Straße. The cooperation with the city has worked smoothly". With the small stainless steel sign, on which only the company logo is shown, the company discreetly draws attention to its existence. Another sign for the next bank, which is planned for summer 2021, has already been produced.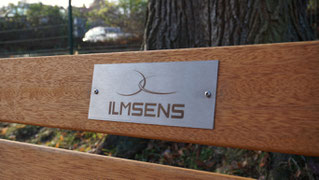 Lord Mayor Dr. Daniel Schultheiss is very grateful for the commitment of local companies: "If young companies also identify with Ilmenau and appreciate the city as family and business-friendly, this motivates us to continue working on it". Especially now, at this special time, when the swimming pool and ice rink, for example, must remain closed, families are using the Ilmenau playgrounds even more frequently than in previous years at the same time. With more seating, it is easier to take a breather and still keep the necessary distance while the children romp around. After all, a visit to the playground should be as pleasant as possible for everyone involved. 
In the current year, the city has invested around 250,000 euros in maintenance, repair and new playground elements – a record sum. It was therefore very pleased with this kind of sustainable marketing by Ilmsens GmbH. After all, a bench lasts for around 20 years.