Today: Double Chocolate Brownies
Someone once said that chocolate is the answer. Who cares what the question was.
Steffi's answer was this incredibly chocolaty brownie.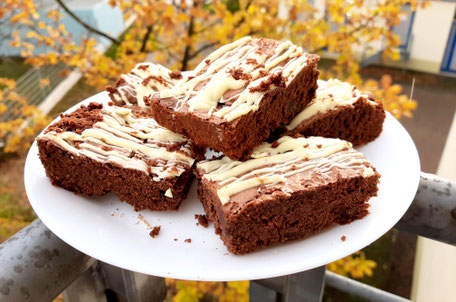 Ingredients
230 g dark chocolate
130 g butter
140 g flour
210 g sugar
½ tbsp baking powder
¼ tbsp Salt
1 package vanilla sugar
3 eggs, size M
1 package white couverture
Preparation
Melt 200 g of dark chocolate with 120 g of butter, stir and let cool a little.

Mix the flour with the baking powder and the salt.

Beat eggs, sugar and vanilla sugar until foamy and add the lukewarm chocolate mixture.

Sift in the flour mixture little by little and mix carefully to a dough.

Chop the rest of the chocolate and fold in.

Grease a brownies baking tin (approx. 23 x 23 cm) with the remaining butter, add the dough and smooth down.

Then put it on the middle shelf for 20 - 25 minutes in the oven preheated to 180 degrees. The right time must be found here to ensure that the brownies are still moist inside. If the edge is dark brown, they should be ready.

After cooling down, decorate it with white couverture in diagonal stripes. Cut into 16 squares, or into 32 smaller rectangles.
Done :)
A big thank you and praise to Steffi for baking and the recipe!