Today: Yogurette Cake
It's strawberry season in Germany. To celebrate it properly, it is allowed to be a bit more extravagant. So, what is more suitable than this wonderful cake? Spoiler-Alert: Nothing!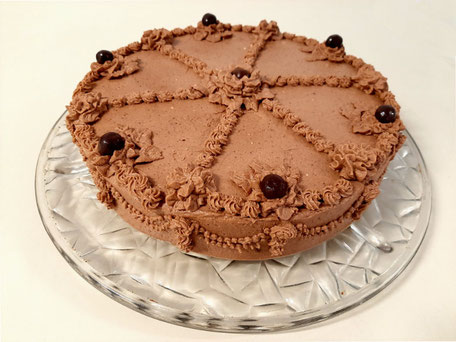 Ingredients 
Dough for cake base:
4 eggs
150g icing sugar
150g flour
2 teas. Baking powder
Filling:
1l whipped cream
350g Yogurette bars (or similar)
4 pck. cream stiffener
500g yoghurt (3,5%)
500g strawberries
Preparation:
Prepare the cake bases and the filling the day before.
Cake base
Preheat the oven to 175°C.
Stir the eggs briefly until they are slightly frothy and sieve the icing sugar into it.
Then mix until a thicker foam is produced.
Mix flour and baking powder, sieve and fold in.
Put the dough into a greased form and bake for about 15 - 20 minutes. Check with a toothpick if the dough is baked through.
 Filling
Warm up the cream in a pot.
Chop the chocolate bars and melt them in the cream (do not boil).
Pour the mixture into a bowl, let it cool down and put it in the fridge over night.
Put a clean tea towel in a kitchen sieve and place it in a bowl.
Pour yoghurt into the kitchen towel and leave to drain in the refrigerator overnight.
The next day:
Whip the chocolate cream until semi-stiff, then add cream stiffener and whip until stiff.
Fold in the yoghurt.
Cut the cake base into three. 
Cover the bottom cake base with the cream mixture and press in the strawberries.
Place the middle cake base on top and repeat. 
Cover the cake with the remaining cream mixture and decorate as you like.
Many thanks for this pretty and delicious cake and the recipe to Tobias' girlfriend!