Ilmsens GmbH wishes you a Merry Christmas and a Happy New Year. Wo hope you have a wonderful time eating, drinking and being merry with your loved ones.
We would also like to thank all our colleagues, partners and customers for the year! Despite Corona, we have worked with you on great projects and have continued to grow. We look forward to working with you next year! 
We all deserve some cookies after this year!
 Because cookies just belong to Christmas, we want to give you Anna's favorite cookie recipe today. Who also loves cinnamon stars so much? Or are you more into shortbread cookies or gingerbread?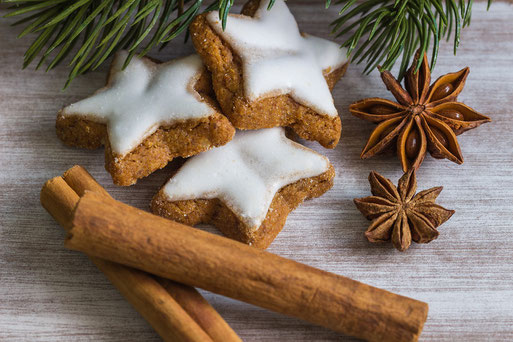 Ingredients
For the dough:
500 g almond(s), ground
300 g powdered sugar
2 tsp. cinnamon
2 egg whites
2 tablespoons liqueur (almond liqueur)
For the glace:
1 egg white
125 g powdered sugar
Preparation
Dough:
Mix almonds, powdered sugar and cinnamon. 
Then add 2 egg whites and almond liqueur. 
Mix everything with the dough hook of the hand mixer.
Then knead with your hands until a smooth dough.
Roll out dough in portions on a work surface dusted with powdered sugar to a thickness of about 1 cm.
Cut out stars and place on a baking tray covered with baking paper. Dip cookie cutters repeatedly in powdered sugar.
Glaze:
Beat 1 egg white until it is very stiff.
Gradually add powdered sugar, while continuing to beat.
Cover the stars with it.
Bake in the preheated oven on the lowest shelf at 150 degrees for 10 - 15 minutes.
But for now: Enjoy the Christmas season and stay healthy!